Don't get caught out by being underinsured.
While many businesses that seek and take the insurance advice from a reputable Insurance Adviser can feel secure in the knowledge that their assets are protected, those that find insurance coverage themselves could well be significantly exposed and underinsured. Unfortunately, it's only when disaster strikes (by which time it is too late) that many realise they are underinsured.
What exactly is 'underinsurance'?
Underinsurance is having an insurance policy without enough 'sum insured' factored in to cover all potential losses. It's why 'underinsurance' is increasingly becoming a significant business risk for so many Australian businesses.
"Half of all Australians have little to no home insurance," reveals Resilium Insurance Broking Managing Director, Ben Haste. "Equally just as crazy is that one in ten Australian businesses do not have  adaquate Sum Insured should disaster strike."
"Unfortunately, some business owners think that having their place of business/premises insured is simply enough," says Mr Hastie. "This would be fine for a fire,  Storm or theft, but this doesn't take into account all the other potential losses that come 'after the fire or  weather event."
"For instance, in this example of a fire or  Storm, what contingencies does the business have in place for the resulting business disruption and interruption when the business no longer stands and cannot operate?"
"Staff costs and other regular bills will still need to be paid despite the lack of income, so only having the building insured will leave the business owner significantly underinsured and liable for all those costs that come with running a business," he says.
What if a business experiences another kind of disaster, where it is held to virtual ransom by a Cyber hacker for instance? Mr Hastie says that it's vitally important for businesses to carefully examine all their potential business risks and making sure all eventualities are covered.
It's what Resilium Advisers do for their clients to make sure they are well informed about all possibilities and have enough sum insured coverage should they ever have to make a claim.
Does your sum insured cover all your potential losses?
Underinsurance triggers when business owners underestimate either the reinstatement or replacement costs of their business assets after a damaging event such as a fire or storm. If the sum insured doesn't reflect an up-to-date reinstatement or replacement cost, the owners will be underinsured and may face substantial out-of-pocket expenses if they need to make a claim.
Case studies illustrating the insurance versus underinsurance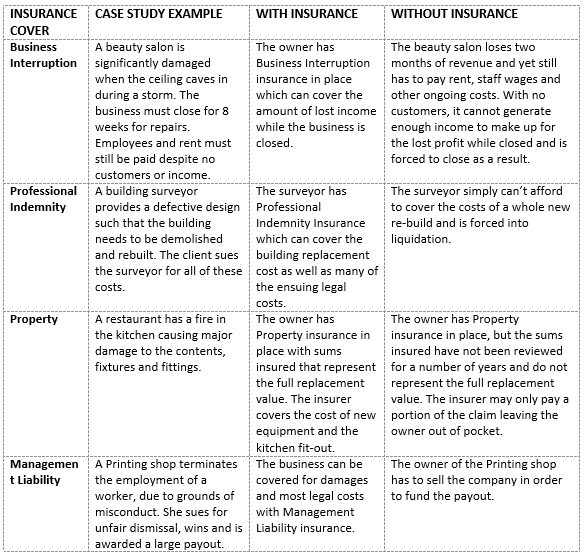 Are you at risk of being underinsured?
If you answer 'yes' to any of these then you are likely to be underinsured.
Your insurance cover isn't updated with changed circumstances (you may not have changed your insurance in years and your business has since grown in size and assets).
Your 'sum insured' is not enough to cover losses (because your current insurance is based on out-of-date replacement costs of your business assets).
Your coverage is limited to your business premises only and does not include consideration of other types of financial loss like business interruption, professional indemnity and management liability.
How a Resilium Adviser can help
As a qualified and Authorised representative of Resilium Insurance Broking, we have the knowledge and experience to examine your business' level of risk.
Talk to us today so you can have peace of mind that your property and assets are adequately insured should the worst-case scenario take place.
 The information provided in this article is of a general nature only and has been prepared without taking into account your individual objectives, financial situation or needs. If you require advice that is tailored to your specific business or individual circumstances, please contact Resilium directly.