How prepared is your business for risk?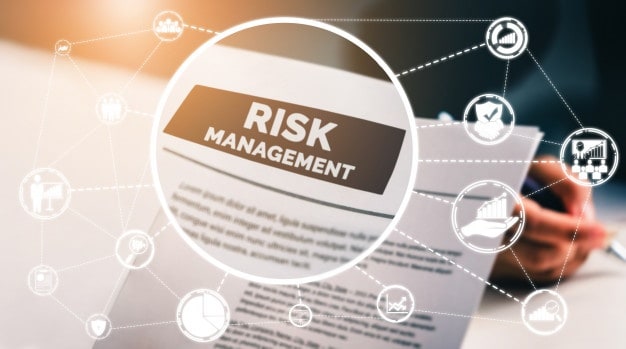 Seven steps to successful risk management.
When did you last have a thorough look at the risks that come with owning and operating a business? Some risks are simply beyond your control (i.e. the impact of COVID-19) while there are others that you can prepare for (work-place injury, fire and theft for example).
How does Resilium define risk? Risks are events and situations that can lead to negative effects for your business. Depending on your business, a risk could range from flooding to a drought, or a drastic drop or rise in interest rates. Alternatively, the risk could be a direct competitor opening a rival store across the road from yours and offering the same product at half the cost.
"Risk, by its definition, is broad particularly when it comes to insurance," explains Drue Castanelli, Resilium's Director of Compliance.
"The first step for any business wanting to have peace of mind, is to the identify risks that are specific to their individual needs or industry and then ensure they are covered by insurance."
A Resilium adviser will help uncover any areas of your business that might be compromised should you not have adequate insurance coverage.
You can also consider the following seven steps to help you manage potential business risks.
1. Decide what matters most
Think about which areas of your business are most important to its operating effectively. For instance, you might be interested in hazard-based risks or perhaps you sell goods online and need to consider Cyber risk. When creating your plan, think about the following:
• social, cultural, political and regional issues
• economic, technology and competitive trends
• government policies and law
• your business aims, policies and strategies.
2. Consult with stakeholders
Ask for feedback from the people, businesses or organisations you deal with every day.
This kind of consultation will help you to:
• work out what is a high or low risk for your business
• bring together different views and areas of expertise
• keep your risk framework up to date
• respond to unexpected risks.
3. Identify the risks
To work out your business risks, think about what could go wrong and how and why it could happen. Consider researching past events and risks as well as the social and community issues that could affect your business.
To help map out risks, you can also:
• look at incident reports, customer feedback and survey reports
• review financial audit reports or workplace safety reports
• Conduct a SWOT analysis for your business (strength, weaknesses, opportunities and threats)
• discuss business issues with customers, staff and suppliers.
4. Analyse the risks
Once you've identified risks specific to your business, work out which ones are the most urgent.
A good way to do this is to analyse the risks of a potential event and consider:
• damage that the risk would cause
• likelihood of the risk happening
• Work out a rating system for damage and likelihood. For example, you could have ratings of 1 to 4 for damage (1 for slight damage, and 4 for severe damage) as well as 1 to 4 for likelihood (1 for not likely, and 4 for extremely likely).
5. Evaluate the risk
Work out the level and nature of risks that are acceptable and unacceptable in your workplace. Compare the level of risk for various events against the risk criteria you have come up with.
Your strategy for managing risk may be more than just deciding whether to accept the risk or not. If your business is part of a bigger supply chain that involves multiple stakeholders like retailers, primary producers or distributors then you can spread the risk across several areas.
6. Treat risks to your business
After reviewing and identifying risks specific to your business, you can now decide how to treat them.
Your plan could include:
• each risk type and the level of risk to your business
• suggested strategies to deal with or transfer each risk; including adequate insurance, that is, transferring risks to an Insurer
• timeframes for each strategy to be completed
• details of 'owners' responsible for specific parts of the plan
• allocating resources required such as money, staff and external help if necessary
• Diarising future actions to take place, like regular checking and updating of risks.
7. Pledge to reducing risk
With a considered risk management plan in place, you can feel some peace of mind that you are as prepared as you can be for the unexpected.
As a business owner, it's a good idea to share the following with your staff and team:
• clearly describe your risk management plan to everyone in your business
• make sure your business aims link to your risk management plan
• set up a way of measuring the success of your risk management plan
• regularly check that your way of measuring is giving you useful information
• make it clear who is responsible for what risks
• ask for feedback from everyone in your business, including customers and suppliers
• use feedback to update your plan
• explain risk management to new employees and in training programs.
"A comprehensive business risk management and strategy is an essential component of every good business," explains Resilium's Mr Castanelli. "Understanding the potential risks to your business and how they could affect its future operation is not to be taken lightly."
"Do your research; consider the worst case scenarios that could occur and plan for them as possible eventualities … While it may be a cliché, it truly is 'better to be safe than sorry'," he concludes.
In summary, businesses that recover quickly are those that plan in advance. This involves not only purchasing the right insurance, but also developing and maintaining an adequate recovery plan. A Resilium Insurance Adviser can assist you with the development of a Business Continuity Management Plan – click here to find one closest to you.
The information provided in this article is of a general nature only and has been prepared without taking into account your individual objectives, financial situation or needs. If you require advice that is tailored to your specific business or individual circumstances, please contact Resilium directly.
References:
https://www.business.gov.au/Risk-management/Risk-assessment-and-planning/How-to-manage-risk
https://quantumfbi.com/effective-risk-management-strategies/